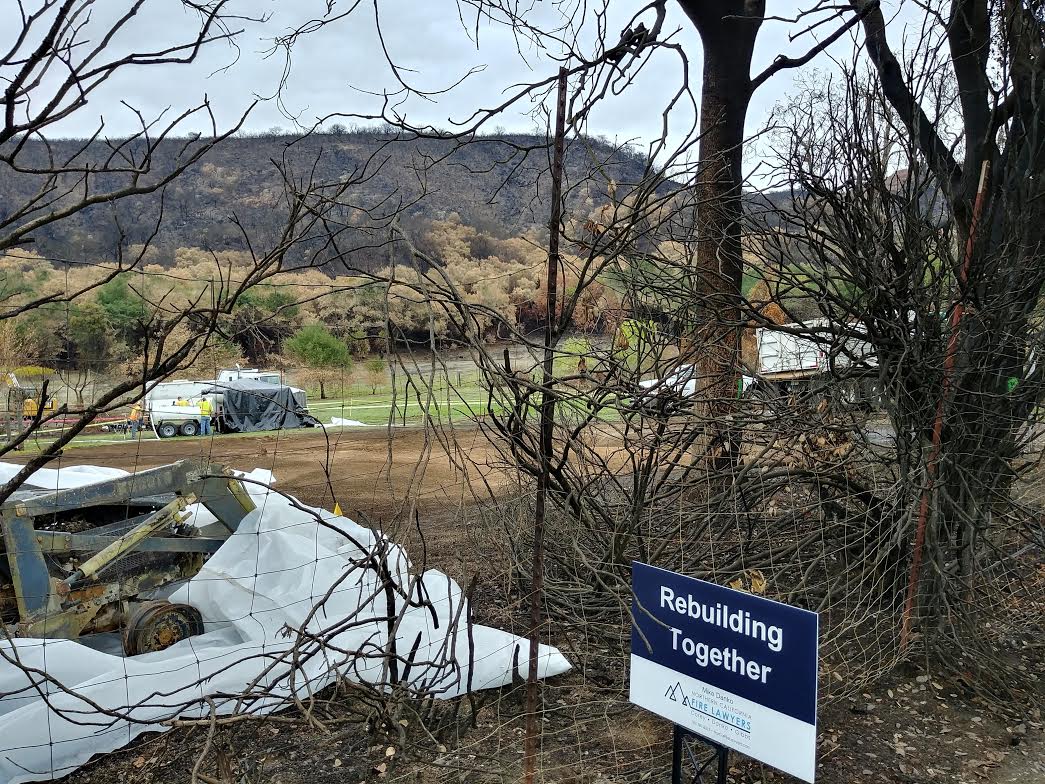 The 2017 Northern California fires burned over 245,000 acres — the most destructive fires in California's history.
Our Bay Area legal group is committed to helping North Bay residents rebuild their lives and their communities in the devastating aftermath of the Tubbs, Atlas, Nuns, and surrounding fires.
Fill out the form below. We will get back you soon.
REQUEST A FREE CONSULTATION
Want to speak to a member of our team now?
1-707-781-8313
JOIN US FOR COMMUNITY MEETINGS
Gather with other local residents impacted by the fire to discuss navigating through this emotional time and tips for filing insurance claims. We'll share thoughts and practical advice from survivors of the Oakland fires.
Click below to learn more and find out details of community meetings in your area.
Northern California Fire Lawyers is a coalition of three prominent California law firms: Corey, Luzaich, de Ghetaldi & Riddle, Danko Meredith and Gibbs Law Group. Our firms have successfully taken on some of the nation's largest utility companies in previous fire and explosion cases, including most recently the San Bruno pipeline explosion and the Butte fire that devastated over 70,000 acres in 2015. We bring a deep knowledge of the systems and fire-prevention policies of major utility companies and are well-positioned to take the hard work from years of litigation in previous cases to benefit our clients in holding PG&E accountable for the devastation caused by the fires.
Our approach is different from other firms in that we work directly with our clients through every stage of the litigation, from intake through verdict or settlement.
San Mateo Trial Lawyers Association
Mike Danko
Law360
Eric Gibbs (sole plaintiffs' lawyer recognized nationwide)
Finalist, Consumer Attorneys of California
Mike Danko
Finalist, Consumer Attorneys of California
Eric Gibbs
Finalist, Consumer Attorneys of California
Amanda Riddle
Martindale-Hubbell – highest class of attorneys for professional ethics and legal skills
Eric Gibbs
Serving as co-lead counsel, achieved confidential settlements for hundreds of victims of PG&E explosion and fire in San Bruno, California
Confidential settlements of claims arising from PG&E transformer explosion and fire in downtown San Francisco
Record jury verdict against PG&E involving fatal apartment complex fire on Spencer Street, Santa Rosa, California
Court-appointed co-liaison counsel for over 3,000 victims of the Butte Fire (cases pending)
According to Sonoma County's lawsuit,

"the Wine Country Fires started when electrical infrastructure owned, operated and maintained by PG&E . . . came into contact with vegetation that PG&E was obligated to have inspected and maintained but failed to do so in a manner that would have prevented or mitigated the effects of such contact."


"I am honored to serve in this position and to represent the interests of those people who suffered losses as a result of the North Bay Fires," said
Dario
. "We are committed to holding PG&E responsible for its role in the fires, and to obtaining justice for the victims and the community."
By Mike Danko and Caroline Corbitt
Originally published in
Law360
, January 10, 2018
If PG&E's management gets its way, it will be the ratepayers. If the plaintiffs' lawyers succeed, it is likely to be the shareholders.
ARE YOU HAVING ISSUES FINDING THE ANSWERS YOU NEED?
Visit our Resources page for the answers to commonly asked questions resulting from the North Bay Fires