Our team of attorneys have filed a lawsuit on behalf of victims of the Cascade Fire alleging that PG&E's failure to properly maintain its equipment caused the blaze. The fire lawsuits seek money in excess of what is already covered by insurance. We also assist our clients with home insurance & personal property inventories.
In October 2018, Cal Fire issued a report stating it determined that the cause of the fire was due to line sag in PG&E power lines.  Specifically, two power lines contacted creating an electrical arc according to the report. The "electrical arc deposited hot burning or molten material on the ground in a receptive fuel bed causing the fire."
Questions? Find out why you should file a claim.
Cascade Fire survivors may have legal claims to compensation from PG&E for property losses, serious injuries, and other damages.  Fill out the form to the right to explore your options and your claims with a trusted wildfire attorney today, free. Hablamos Español.
Find out if you have a claim
Free consultation with a wildfire lawyer
707-562-0516
We are an experienced Bay Area legal team that represents homeowners, renters and businesses affected by the 2017 Cascade fires. Our attorneys have been appointed by California judges to serve in leadership roles in several large, coordinated fire and disaster cases, including in the 2017 PG&E Fire Cases, San Bruno Explosion and Butte Fire cases. Collectively we have more experience taking on PG&E than any other law firm in California. 
Find out if you have a claim to recover money from PG&E. For a free consultation with a PG&E Wildfire Attorney, fill out the form to the right or call 707-562-0516. Hablamos Español.
Our team of lawyers has been widely-recognized for the quality of our work and achievements: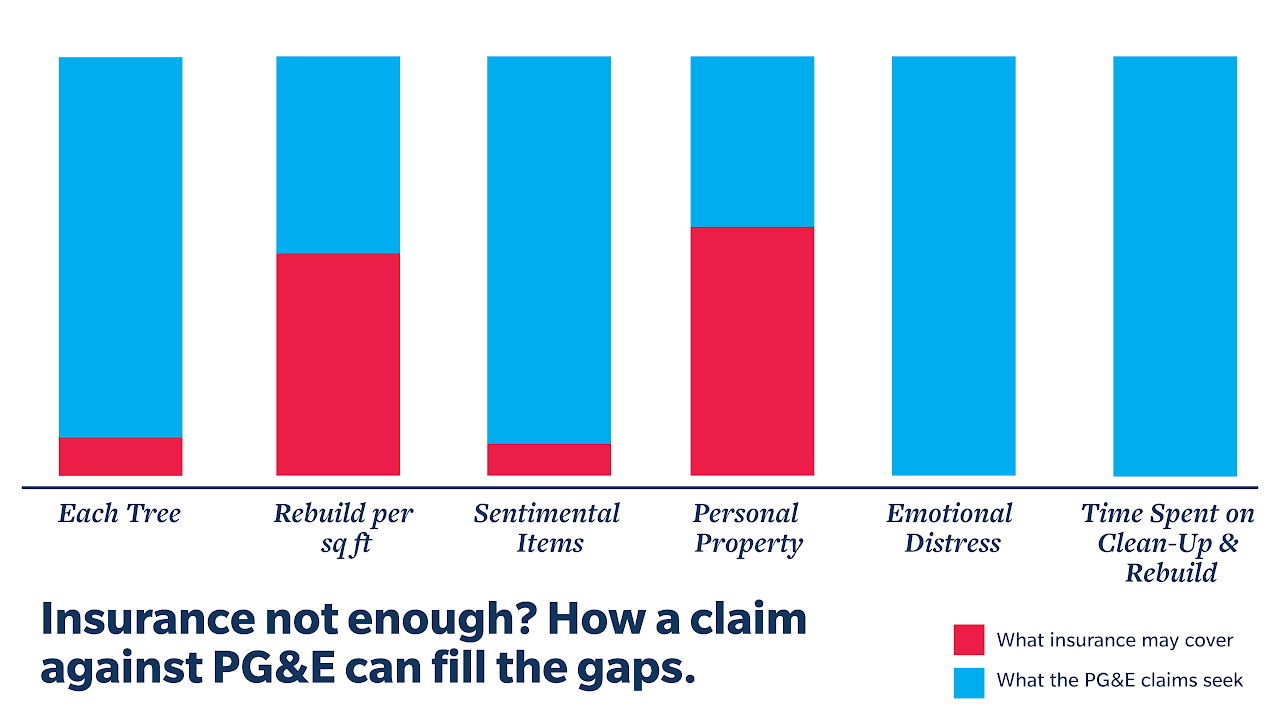 According to the Cal Fire report, the Cascade Fire burned 9989 acres of land and destroyed 264 residences and outbuilding.  The Cascade Fire also caused four fatalities.  The origin was located at 13196 Cascade Way in Browns Valley, California.
The report describes how at 11:02 p.m. on October 8th, 2017, the Grass Valley Emergency Command Center received a report of a vegetation fire on Cascade Lane.  The La Porte Fire, which started the same day, burned 6151 acres and eventually merged with the Cascade Fire.
On January 4, 2018, San Francisco Superior Court Judge Curtis Karnow ordered that all of the lawsuits arising from the October 2017 wildfires, including the Cascade Fire, should be centralized in San Francisco Superior Court for pre-trial purposes.  On May 21, 2018, Judge Karnow also denied PG&E's motion to dismiss one claim from the cases, writing that one of PG&E's arguments was "flatly contradicted" by previous case law and that PG&E provided no legal precedent for others.
Judge Karnow has ordered that discovery/evidence-gathering be conducted in phases, with the first phase focused on gathering evidence from PG&E.  Trial may be set as early as August 2019.  
We've prevailed in prior litigation against PG&E.
Following the 2015 Butte fire that destroyed over 70,000 acres, we proved that PG&E was liable for property damage.

We did the same in the cases arising from the San Bruno Fires, settling all of them in 2013 – just three years after the blaze.
We know more about PG&E's fire prevention policies and litigation tactics than nearly anyone.
We know how PG&E's fire prevention programs are supposed to work, how they fall short in practice, and why.

We have PG&E's litigation playbook.

We know PG&E inside and out and believe that their approach which values profits over consumer safety needs to change. This will keep happening unless we take action.
Our unique experience positions us to represent our clients' interests better than anyone else.
The law firms of Corey, Luzaich, de Ghetaldi & Riddle, Danko Meredith, and Gibbs Law Group each has experience representing California businesses and families that have suffered losses in previous fires, and we have successfully litigated against some of the largest and most powerful corporations in the country, including PG&E.
Attorneys Dario de Ghetaldi and Amanda Riddle of Corey, Luzaich, de Ghetaldi & Riddle were co-liaison counsel for nearly 50 families in litigation against PG&E concerning the September 2010 explosion of a 30-inch natural gas transmission line in San Bruno. They currently represent over 200 families who are victims of the 2015 Butte Fire that devastated over 70,000 acres.
The attorneys of Danko Meredith have earned hundreds of millions of dollars in settlements and verdicts for their clients; Mike Danko was recently honored as Trial Lawyer of the Year by San Mateo Trial Lawyers Association.
Gibbs Law Group's attorneys bring more than two decades of experience representing clients in complex cases against utility companies, banks and pharmaceutical manufacturers. The Daily Journal named Eric Gibbs to its prestigious list of "Top Plaintiff Lawyers in California" for 2016, and Law360 recognized Eric as a "2016 Consumer Protection MVP," the only plaintiff-side lawyer in the country selected in that category.