Oroville Nazarene Church (possibly full)
2238 Monte Vista Ave
Oroville, CA95966
Neighborhood Church (possibly full)
2801 Norte Dame Blvd
Chico, CA 95928
Butte County Fairgrounds
199 E. Hazel St.
Gridley, CA 95948
Yuba Sutter City Fairgrounds
442 Franklin Ave
Yuba City, CA
Glenn County Fairgrounds
221 E. Yolo St.
Orland, CA 95963
Chester Memorial Hall
22 Gay St.
Chester, CA
Small Animals:
Old County Hospital
2279 Del Oro and Mono, Suite E
Oroville, CA
Small Animals:
Chico Airport
150 Airpark Blvd
Chico, CA
Large Animals:
Butte County Fairgrounds
199 E Hazel St.
Gridley, CA 95948
Paradise Camp Fire Temporary Overnight Parking (last updated 11/9/18)
Lowes, 2350 Forest Ave, Chico, CA 95928
Chico Mall, near Sears and Logans Roadhouse, 1950 E 20th St, Chico, California 95928
K-Mart, 2155 Pillsbury Rd, Chico, 95926, CA
DeGarmo Park, 199 Leora Ct, Chico, 95973, CA
Wal-Mart, 2044 Forest Ave, Chico, 95928, CA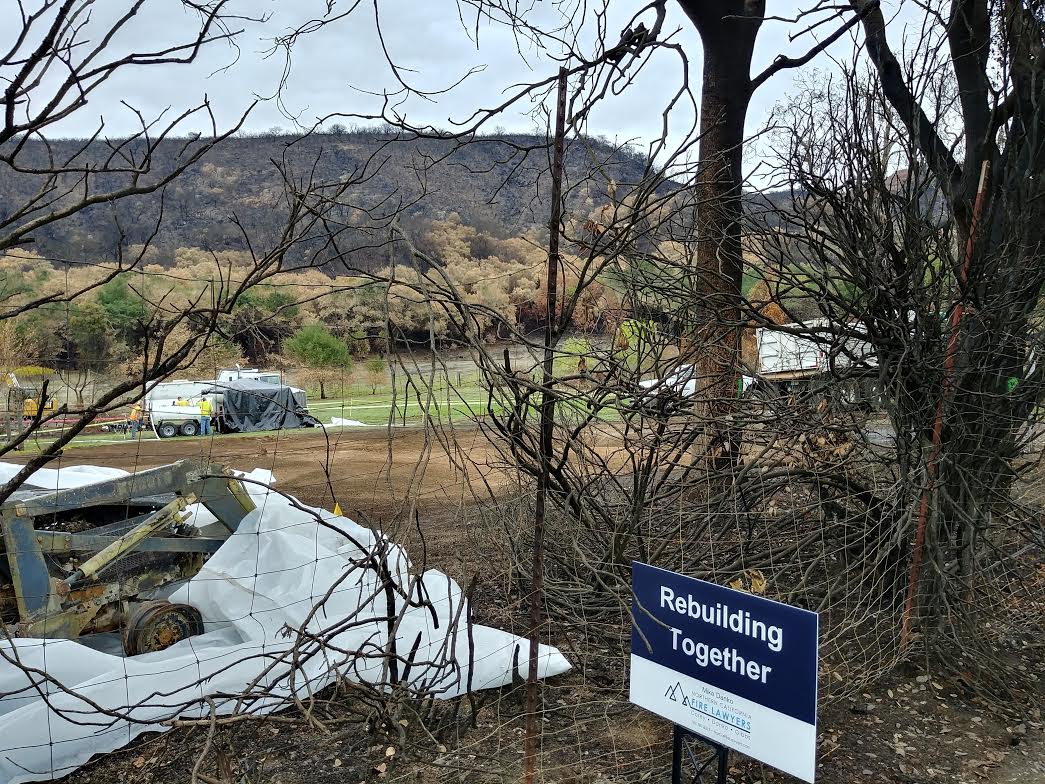 Our Bay Area legal group represents hundreds of Northern California residents whose lives were devastated by the destructive '18 Paradise Camp Fire & the '17 PG&E Wildfires. With every case we file against the utility, our goal is the same: to ensure our clients recoup the true value of everything they lost, and to compensate them for the steep emotional costs of this tragedy.
PG&E Lawsuits
Recover Your Losses
530-208-3062
JOIN US FOR COMMUNITY MEETINGS
Gather with your neighbors, get help navigating insurance and your rebuild, and learn about developments in the PG&E wildfire litigation. Free. Meeting locations in Calistoga, Clearlake, Napa, Redwood Valley, Santa Rosa, Sonoma, and Ukiah.
Click below for details on community meetings in your area.
We are a coalition of three Bay Area law firms that have been representing clients throughout Northern California for over 20 years.
Unlike other firms, we work directly with our clients through every stage of the litigation — from intake through verdict or settlement.
We have successfully taken on PG&E in previous fire and explosion trials, including the San Bruno pipeline explosion and the Butte fire.
Our team of Butte Camp Fire Attorneys have been featured and our lawsuit against PG&E has been chronicled in major national and California news publications:
San Mateo Trial Lawyers Association
Mike Danko
Law360
Eric Gibbs (sole plaintiffs' lawyer recognized nationwide)
Finalist, Consumer Attorneys of California
Mike Danko
Finalist, Consumer Attorneys of California
Eric Gibbs
Finalist, Consumer Attorneys of California
Amanda Riddle
Martindale-Hubbell – highest class of attorneys for professional ethics and legal skills
Eric Gibbs
Serving as co-lead counsel, achieved confidential settlements for hundreds of victims of PG&E explosion and fire
Confidential settlements of claims arising from PG&E transformer explosion and fire in downtown San Francisco
Record jury verdict against PG&E involving fatal apartment complex fire on Spencer Street, Santa Rosa, California
Court-appointed co-liaison counsel for over 3,000 victims of the Butte Fire (cases pending)
On November 14, 2018, ABC10 aired a story on our
PG&E Butte County Camp Fire Lawsuit.
In the story, reporter Brandon Rittiman notes important information regarding PG&E's potential involvement: "We do know that PG&E reported to the state that it had a problem with one of those lines in the burn area last Thursday morning- the morning when the camp fire started."
WILL INSURANCE COVER MY REBUILD IN A DIFFERENT LOCATION?
HOW MUCH ARE MY LOST TREES REALLY WORTH?
WHAT'S INVERSE CONDEMNATION?
Check out our Resources for answers to these and other recovery questions.
Affected by the California Wildfires?
Free consultation with a wildfire lawyer
530-208-3062