Our attorneys have filed lawsuits on behalf of survivors of the Tubbs, Atlas, Nuns, Sulphur, Redwood Valley, and LaPorte fires.
Our clients include homeowners and renters who lost their homes, property, and personal items in the fires. We also represent businesses affected by the fires.
The lawsuits allege that each of the fires started when PG&E's power lines came into contact with vegetation because PG&E was negligent in failing to properly inspect and maintain its infrastructure and clear vegetation from its power lines, as required by state law.
According to the complaints, PG&E's failures ultimately caused 19 separate fires to ignite in one night.
With the lawsuits, our clients hope to recover money to make them whole, and compensate them for the loss of value to their properties, evacuation and temporary housing costs, emotional trauma, and loss of income.
Download a copy of the master complaint here. Fill out the form to find out now if you have a claim for compensation from PG&E, free.
Do I have a claim against PG&E?
January 4, 2018:  San Francisco Superior Court Judge Curtis Karnow ordered that all of the lawsuits arising from fires in Sonoma, Napa, Solano, Yuba, Lake and Mendocino Counties to be centralized and coordinatein San Francisco, Superior Court for pre-trial purposes.  The California North Bay Fire Lawsuits the lawsuit represent the interests of thousands of individual plaintiffs in lawsuits against PG&E.
On February 27, 2018: The first Case Management Conference was held before Judge Karnow. The Court said that the discovery and evidence-gathering will be done in phases, with the first phase focused on gathering evidence from PG&E.   We informed the Judge that additional living expenses insurance coverage for many plaintiffs will expire 24 months from the date of the fires and that potential delays in the litigation could result in substantial hardships.  Trials may be set as early as August 2019.
March 7, 2018:  Judge Karnow appointed leadership including Northern California Fire Lawyer Dario de Ghetaldi was appointed by to the Plaintiffs' Executive Committee in. As a member of the Plaintiffs' Executive Committee, Dario and other court-appointed leadership will serve a key role in communicating with the Court and developing legal strategy against PG&E.
The next hearing will take place on May 18, 2018.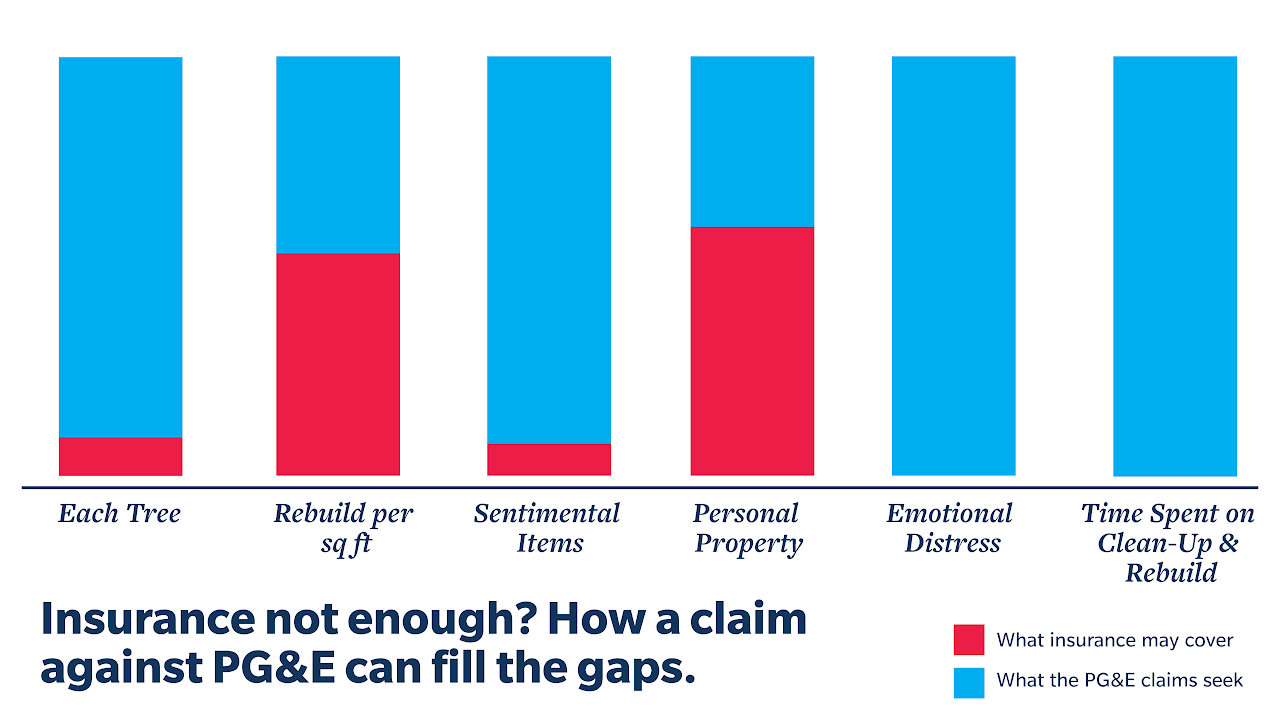 On February 26, 2018, Sonoma County and others, filed a lawsuit against PG&E for damages relating to the Tubbs Fire, Nuns Fire, and Pocket Fire. According to Sonoma County's lawsuit, "the Wine Country Fires started when electrical infrastructure owned, operated and maintained by PG&E . . . came into contact with vegetation that PG&E was obligated to have inspected and maintained but failed to do so in a manner that would have prevented or mitigated the effects of such contact."
Regarding the firestorm, Sonoma County Counsel Bruce Goldstein stated: "[w]e believe based on an investigation attorneys put together that PG&E was a significant cause of it."
Northern California Fire Lawyers is a coalition of prominent Northern California law firms: Corey, Luzaich, de Ghetaldi & Riddle, Danko Meredith, and Gibbs Law Group. Our firms consist of seasoned trial lawyers, leading national personal injury attorneys, and experienced complex litigators. Attorneys on our team have been appointed by California judges to serve in leadership positions in a number of large, coordinated fire and disaster cases. We bring a deep knowledge of the systems and fire-prevention policies of major utility companies and are well-positioned to leverage the hard work from our previous cases to benefit our clients.
San Mateo Trial Lawyers Association
Mike Danko
Law360
Eric Gibbs (sole plaintiffs' lawyer recognized nationwide)
Finalist, Consumer Attorneys of California
Mike Danko
Finalist, Consumer Attorneys of California
Eric Gibbs
Finalist, Consumer Attorneys of California
Amanda Riddle
Martindale-Hubbell – highest class of attorneys for professional ethics and legal skills
Eric Gibbs
Trauner Fire:
Wildfire that swept through 500 acres of land in Western Nevada County. The fire reached the town limits and destroyed 12 homes and 22 other structures, including a schoolhouse in 1994.
A jury convicted PG&E of 739 counts of criminal negligence for failing to trim trees near its power lines — the largest criminal conviction in history against the state's largest utility.
San Bruno Pipeline Explosion:
Natural gas pipeline that exploded and released a fireball that killed eight people and devastated the residential community of San Bruno, California in 2010.
PG&E was fined $1.6 billion by Public Utility Commission for causing the explosion (the largest such punishment ever levied on an American public utility)
PG&E was criminally convicted on charges of violating federal pipeline safety regulations and obstructing an official National Transportation Safety Board probe into the blast.
Butte Fire:
2015 wildfire that ignited when a tree came in contact with a power line, ultimately destroying more than 70,000 in Calaveras County destroying 921 structures
PG&E fined $8.3 million by Public Utilities Commission
Just like in these previous examples, our lawsuits allege that PG&E was negligent in failing to inspect and maintain its infrastructure and clear vegetation from power lines, which ultimately caused the 19 separate fires to ignite in one night throughout Northern California.
Our complaint alleges that PG&E was aware of the risk of wildfires in Northern California and problems with its infrastructure. As described in the complaint, in 2013, an outside consulting group conducted an independent review of PG&E's proposed expenditures. The report concluded that "several aspects of the PG&E distribution system present significant safety issues," including PG&E's use of "obsolete" wiring subject to "corrosion issues." The Report specifically describes:
PG&E's wiring is "more subject to breakage"
The vast majority of PG&E's distribution system is ungrounded
As a result, a "wires-down situation" (a broken wire contacting an object or the ground) will often remain energized until a [PG&E employee] arrives and disconnects the power line source of the feed." This has "contributed to a number of fatalities and injuries."
According to the complaint, PG&E also has a long-standing practice of using reclosers throughout its system to automatically restart power after interruptions, even thought it knows these devices may cause wildfires. Reclosers are circuit breakers equipped with a mechanism that can automatically re-energize a power line after it has been "opened" due to a fault. PG&E's Senior Vice President of Electrical Operations has stated that PG&E has the ability to reprogram its reclosers to not automatically restart power during fire season. He described the effect as "you take the reliability hit, but you gain the wildfire benefit." According to the complaint, PG&E did not turn off a number of reclosers in the area of the Northern California Fires, but instead left them active until directed to turn them off by CalFire between October 12-15, 2017 (several days after the fires initially ignited).
Additionally, the government has warned PG&E about the risks. As described in the complaint, the California Public Utilities Commission (or "CPUC") directed PG&E to take remedial measures in 2014 to reduce the likelihood of fires, and agreed to provide additional vegetation management funding to make sure these measures would be performed. In 2017, the CPUC again directed PG&E to continue increased efforts to reduce fire risk.
The complaint alleges that despite its knowledge of the risks, PG&E maintained an incentive program for executives and management focused on reducing the number of customer complaints about outages rather than complying with vegetation management regulations. As the complaint describes, PG&E performs two kinds of vegetation management work:
Routine compliance work — focused on clearing the required distances between energized conductors and vegetation
Reliability work — focused on reducing the number of vegetation-related outages
Because outages in urban areas generate more complaints per square mile, reliability work tends to be performed in densely populated urban areas, while routine compliance work is performed in rural areas.
As described in the complaint, in 2006, PG&E developed the "Vegetation Management Incentive Initiative" directed at reducing the amount of routine compliance work in favor of reliability work.
Specifically, PG&E tied its executive and management bonuses to reducing customer complaints over outages. According the complaint, PG&E funded its outage reduction work by reducing the number of trees it inspected as part of state regulatory requirements.
For example, in 2011, PG&E set a goal to reduce the number of trees for which it performed compliance work by 180,000 trees. In 2012, PG&E aimed to reduce the number of routine compliance trees again by 25%. And in 2014, PG&E set to reduce the number of routine compliance trees annually by 7.5% through 2016. According to the complaint, these actions contributed to causing the Northern California Fires.